Buddhadeb Ganguly, a name, which needs no introduction. Way back from the inception of his adolescence he emerged into the industry to create musical extravaganza through his accomplished unique style of playing the guitar, making pleasing tunes and designing the scores which results in the tranquility of mind of the listener. Turning over the pages of his musical awards, he bagged the Hollywood Walk of Fame in 1994 and is still gaining the spotlight of FilmFare awards and other soirees.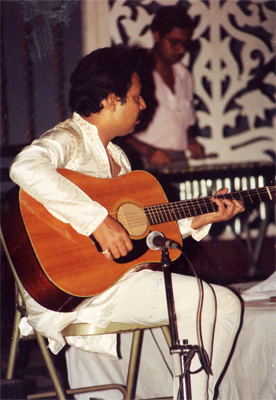 AS A COMPOSER (MUSIC DIRECTOR)/ ASSISTANT MUSIC DIRECTOR :
Traversing through the hepta-tonic path, Buddhadeb strummed the notes to shine as a composer. The first golden opportunity which knocked his directorial potential was in the film "Raja Harishchandra", a bengali feature film where the great maestro Shymal Mitra, added colors to his musical creation with his evergreen voice. Optimising every opportunity, Buddhadeb established his name in the Tollywood industry. H'ble directors like Lt. Anjan Chowdhury, Tarun Majumder, Tapan Sinha,Victor Banerjee, Bablu Samaddar, Haranath Chakraborty, Prabhat Roy, Biresh Chatterjee, widened his arena by giving him the chance to prove his stance at a musical glance.
For years, Buddhadeb was under the eagle's eye-view of the renowned Music Directors and film directors. This paved his way to work as an Assistant music director. He worked as an asssistant to Lt. Sudhin Dasgupta, Bhupen Hazarika, Probir Mazumdar, Salil Chowdgury, Mrinal Banerjee, Kanu Bhattacharjee, Jatileswar Mukherjee, Swapan Chakraborty( Mumbai).
To name a few films where Buddhadeb Ganguly expressed his musical thoughts as a Music Director / Assistant Music Director are LOAFER, ASOL NAKOL (with R.D.Burman), SEJO BOU, LATHI, GEET SANGEET, KHELAGHAR, DESH, ANU, MAA MATI MANUSH, SHRIMATI BHAYANKARI, NEEL RATRI, MASTAN RAJA etc.
BACKGROUND SCORING CONTRIBUTIONS:
Geet Sangeet, Shriman Bhuthnath, Pooja, Nilimaye Neel, Asol Nakol, Loafer, Nach ngini naach, Desh, Damu, Khelaghar, Lathi, Sandha tara, Gunda, Rangeen godghuli, Debar, Garmil, Krishna Kanter Will, Koonj Baron Kanya, Rajar meye Parul, Sargam etc.
Exclusive Works :
He has designed the music for Geetanjali – a DD National presentation where artist like : Pt. Jasraj, Yesudas, Pt. Ajay Chakraborty, Ustad Rashid Khan, Jagjit Singh, Sudesh Bhonsle, Suresh Wadkar, Anup Jalota, Kumar Sanu, Babul Supriyo, Subha Mudgal, Kavita Krishnamurty, Anuradha Padwal, Sadhna Sargam, Sunidhi Chauhan, Madhushree, Swagata Laxmi Dasgupta, Indrani Sen, Sraboni Sen and many more performed under his guidance.
AS AN ACCOMPANIST:
Being a renowned Music Director, Buddhadeb had shown brilliance in his guitar recitals. Apart from his solos, he has accompanied almost all the shining stars of the era.
LIVE ON STAGE WITH:
TALAT MAHMUD, HEMANTA MUKHERJEE, PT. ARUN BHADURI, PT. AJOY CHAKRABORTY, USTAD RASHID KHAN, USTAD GHULAM ALI, MANABENDRA MUKHERJEE, MANNA DE, SUBIR SEN, KAVITA KRISHNAMURTY, ARATI MUKHERJEE, SUCHITRA MITRA, PROTIMA BANERJEE, HAIMANTI SUKLA, BANASREE SENGUPTA, SREERADHA BANERJEE, ARUNDHUTI HOM CHOWDHURY, ANGSHUMAN ROY, NIRMALA MISRA, ANUP JALOTA, PANKAJ UDAAS, HARIHARAN and many more.
BEHIND THE SCENES:
PT. RAVI SHANKAR, USTAD ALI AKBAR KHAN, USTAD AMJAD ALI KHAN, USTAD BAHADUR KHAN, HEMANTA MUKJERJEE,SHYMAL MITRA, SUDHIN DASGUPTA, RABINDRA JAIN, NACAHIKETA GHOSH, JATILESWAR MUKHERJEE, KABIR SUMAN, RUNA LAILA, SABINA YASMIN.